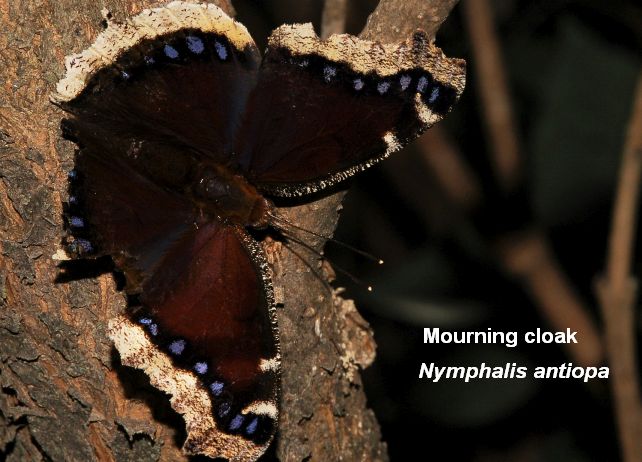 Butterfly season is upon us. Hopefully it is coming up fast. But it doesn't come in with a bang. The sky will not be filled with butterflies. Instead, the season comes in with two or three species sunning themselves high on a tree trunk, or sipping sap from cracks in the bark where tree limbs have broken, or from holes in the bark drilled by sapsuckers.
While the late summer days with lots of butterflies are great, so are the early spring days after a long winter when you see just one or two little bits of optimism flitting around.
Butterflies which spend the summer as adults are the first you will see. Around here they are the mourning cloak, the eastern comma, and the gray comma. Compton tortoiseshell and Milbert's tortoiseshell also overwinter as adults, but are extremely rare in central Iowa. You might see them if you are in northeastern Iowa, however.
The other butterfly you might see very early on is the red admiral. Red admirals migrate into Iowa from southern states, but it seems likely that the early ones are the result of individuals which spent the winter in the pupa stage rather than migrate in.
As we get into the (usually) warmer weather of April we will start seeing other butterflies that have recently emerged from their chrysalis rather than just those that spent the winter in the adult stage. We will also see the other migratory Vanessa species, the painted and American ladies. The early April species include the cabbage white and the black swallowtail.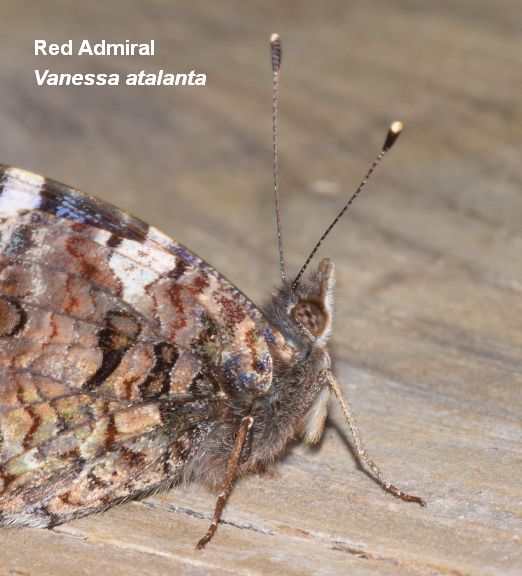 Olympia marble was formerly found in central Iowa in small numbers, but is probably not present now. However, it is a very secretive species and could be here and not seen. If present, it would fly in early to mid April into very early May. Unfortunately, it is most likely gone.
In mid to late April you may be able to find spring azure in some of the wooded areas. Henry's elfin uses redbud as a caterpillar host plant, and is found about the time that small tree blooms. Look for it in the wooded areas along the Des Moines River, anywhere south and east of the city of Des Moines, and where there are concentrations of redbud. I have found them on the ground or in low vegetation along walking trails.
By late April a good assortment of butterflies should be flying, including the eastern tiger swallowtail, clouded sulfurs, eastern tailed blues, juniper hairstreaks (they are found in central Iowa but are pretty rare here), pearl crescents, and question marks.
I usually admonish people to get outside and away from their screens during butterfly season, but there are some pretty good resources that are worth checking out which can enhance the experience. The first is the book

The Butterflies of Iowa

by Dennis Schlicht, John Downey, and Jeffery Nekola. It was published in 2007, and your library may have a copy. Amazon does seem to have some used copies for sale. This book gives a lot of information about Iowa's butterflies that is more specific than the general field guides give.
Jim Durbin's Insects of Iowa site gives information on recent records for Iowa's butterflies. Royce Bitzer, Ph.D. has a website with lots of good information about the migration patterns of red admirals and the painted lady species. The Wisconsin Butterflies site tracks Wisconsin butterflies, but has a useful "recent sightings" page that tells us that mourning cloaks have been seen in Wisconsin, with the first of the year seen on March 8th. inaturalist seems to have some really good information about butterflies but also records of a whole host of other species. There is also an Iowa Butterflies Facebook page. e-butterfly, Butterflies and Moths of North America (BAMNA) and BugGuide all give useful regional information.
Last year was difficult. Many of the state parks had restrictions. Let's hope this year is better. Butterflying is an activity that can be enjoyed individually or in small groups, but maybe some of the more social events can happen this year as well.
So get your nose out of the internet and get outside and look for butterflies.