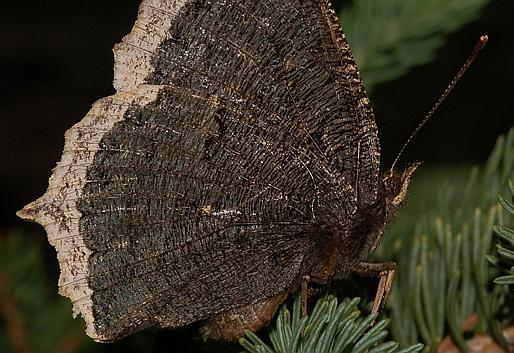 March marks the beginning of the butterfly season in Iowa. As we all attempt to recover from a winter that seemes colder and gloomier than it should have, we look for any sign that winter is past and spring or even summer is here.
We look for the two or three species of flower that are the first to bloom--hepatica, snow trillium, maybe a few others. The two most common early butterflies are the mourning cloak and the eastern comma. Both are fairly large, and spend the winter in the adult stage, wedged into some small crack in the bark of a tree or under the leaf litter on the ground. There are some others we might find--the gray comma and Milbert's tortoiseshell are found in this area, but are considerably less common than the other two. The question mark butterfly might show up as well, but seems to be a little later than the others.
Early spring butterflies act differently than the butterflies that show up later in the year. You won't see them on flowers--the few flowers that are around are not really butterfly flowers. You will find the spring butterflies basking high up in the trees or near sap-oozing wounds in the branches.
Early in spring the weather has a bigger impact on butterfly numbers than it does later in the year. What we need for butterflies is intense sunshine and a certain amount of heat. But it does not have to be that much heat. Mourning cloaks will show up when the temperatures are in the fifties as long as it is nice and sunny. There can even be a significant amount of snow still on the ground--the sun just has to heat up the butterfly.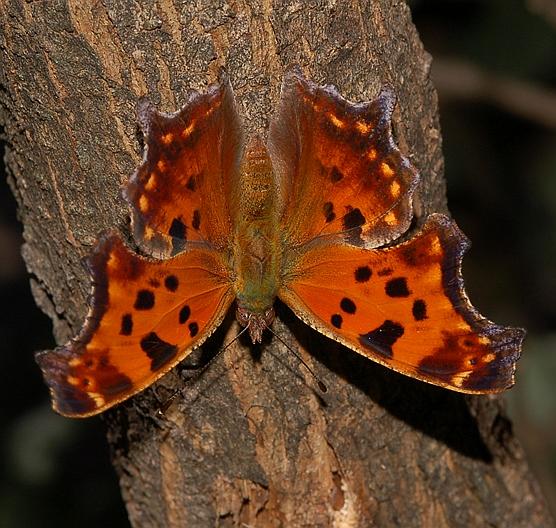 But there will be many days when you have no chance of seeing a butterfly.
Late in March, if the weather cooperates, you might see some of the butterflies that spend the winter in the pupa stage or some that migrate. Cabbage whites, black swallowtails, summer azures, and red admirals all are possible in late March. But not likely, unfortunately. You probably have to wait for April for them.
But enjoy the other signs of spring--the birds and frogs singing, the bits of warm weather, and the earliest of flowers. Mosses send up new stalks--the sporophyte stage. Several species of flies gather in beams of sunlight, forming temporary leks. New life is beginning, and the best is yet to come.

Good bye winter.

Welcome spring. What took you so long?

Harlan Ratcliff