It is April, and we are starting into Spring. We are in a pattern of cool, cloudy, rainy weather which is not generally good for butterflies.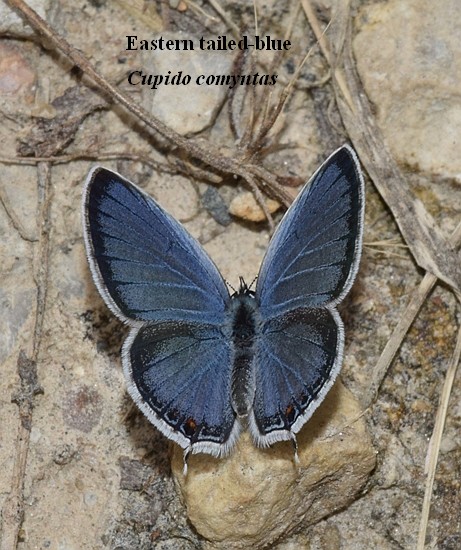 Still, there have been a few observations. Eastern and gray commas and a red admiral have been seen recently, adding to the late February sightings.
When the weather gets a little warmer and we start seeing the sun we should be able to see more butterflies. We will see more of the ones we are seeing now, that mostly have spent the winter in Iowa in the adult stage--eastern and gray commas and mourning cloaks. We will see those butterflies that spent the winter in areas to the south of Iowa as adults, and migrated with the winds that follow the thunderstorms. That includes the red admirals, American ladies, and painted ladies. And we might see the first of the butterflies that spent the winter as a caterpillar or a chrysalis, like the cabbage white.
If you can get to a good woodland, one with lots of spring flowers, make sure you go there. Take a camera and a field guide if you don't know the flowers. Look for bloodroot, hepatica, snow trillium, spring beauty, Dutchman's breeches, wild ginger, and any others you can find. Get down on your belly to get photos looking up at the flowers. Feel the soft earth and smell the smells. This has nothing to do with butterflies but it has something to do with life. We should spend more time in the woods chasing butterflies and looking at flowers and less time chasing whatever else it is we are chasing in our lives.
Toward the end of the month as the days steadily get warmer we might see small blue butterflies in the woodlands that fly anywhere from eye level to treetop level. These are probably spring azures, Celastrina ladon. The genus Celastrina contains the azures, and is a group of butterflies consisting of a number of species or subspecies with subtle differences. There is also a summer azure, C. neglecta. The spring azure has only one generation while the summer azure has several. If you see one in early April it is probably a spring azure, although some experts (mostly from states east of here) claim to find summer and spring azures at the same time, and to be able to tell the difference. I must confess that I can't. I do think Iowa has both species, though.
By the last week of April eastern-tailed blues will be flying. They typically fly from eye level to lower levels, and very seldom fly up into the trees. Their upper wings are dark blue in the males and brown or gray in the females. The upper wings of azures are lighter blue than that of the male eastern tailed-blue, and both sexes are blue above. Female azures have a wider black edge around the forewings than the males.
Black swallowtails and eastern tiger swallowtails should be flying in central Iowa by the end of April. Zebra swallowtails might also be flying by this time as well, but are only found in the southwest corner of the state (Waubonsie State Park) and the southeast corner (Shimek State Forest).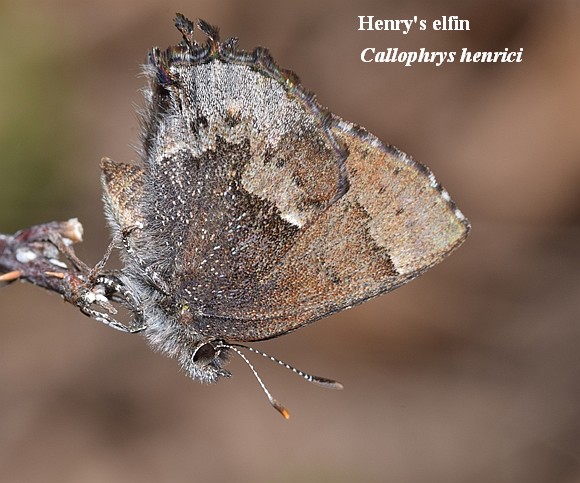 April can be a good time to hunt for some hard-to-find butterflies also. Juniper hairstreaks use eastern red cedars as a host plant, and usually have two generations in Iowa. The first generation emerges in late April, and the second comes out in July. Juniper hairstreaks are more common in the eastern counties of Iowa and in the Loess Hills on the west side of the state. They are also found in the central part of the state, but seem quite rare and hard to find here. I have seen them on my property in Dallas County twice, both times more or less by accident. I have searched for them here dozens of times, and been disappointed by my lack of success.
Henry's elfin is difficult to find in Iowa, but it might not be all that rare. It is very small, and only flies for about a week or two out of the year. The last week of April is probably the best time to look for it. While it uses several caterpillar host plants, in Iowa it probably only uses redbud, which limits it to about the southern third of the state. I have seen it at Cordova State Park and Elk Rock Park, which are on opposite sides of Red Rock Reservoir (the Des Moines River). I don't have that much experience with the species, but one time I did find about half a dozen and was able to spend about an hour taking all the photos I could of them. I initially saw a couple by sitting in a lawn chair by a redbud tree. That time it probably took close to an hour before I saw one, and it was not close enough to take a good photo. I was able to positively identify it, though.
Olympia marbles are small white butterflies that use various mustards, particularly rock cress, as host plants. They are also only found in the early spring--late April and early May. They have always been difficult to locate, but there have been so few records lately that some of our butterfly experts are suggesting that they could be extirpated from the state. I hope that is not the case. If they are still found here they would be most likely to be found in the western part of the state, in the Loess Hills.
Yucca giant skipper has never been documented in Iowa, and it would be an exciting find if it could be found. It is large--almost as large as a silver-spotted skipper. If it could be found here, it would most likely be found in the last week of April or the first week of May (although we really don't know for sure). The caterpillar is a stem and root borer of yucca, and it might be possible to detect the presence of butterfly by the characteristic frass it leaves behind on the damaged yucca.
This time of year gets pretty busy with school events and social events. Make sure you find some time to get out in nature and recharge your batteries.

And I am not talking about the batteries on your cell phone.

Harlan Ratcliff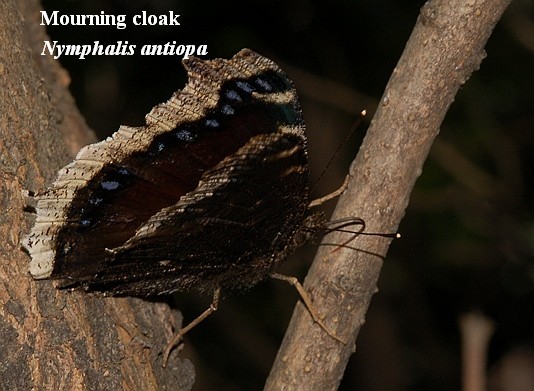 We have made it mostly through winter, and finally we might have some spring. March brings the butterflies--a few at a time, and in fits and starts. We had a very warm stretch in February. Normally we never see butterflies in February in Iowa, but there were a couple of sightings in Iowa--a red admiral at Cone Marsh on February 18, and an eastern comma in Iowa City on the 23rd. There were a dozen sightings of eastern commas in Wisconsin and one in Sarpy County, Nebraska.
But then the weather changed again and we all had to put on our winter coats and get our snow shovels back out of the garage. Such is Iowa weather.
The February sightings were likely early records. Eastern commas are known to overwinter as adults, and are always among the first butterflies seen. The red admiral was a little surprising--conventional wisdom is that they spend the winters to the south of the state, and repopulate through northward migrations. In

The Butterflies of Iowa

by Schlicht et. al., the authors suggest that while large numbers of the species sometimes enter Iowa through migration, there are always early individuals in the spring that may have overwintered as either adults or pupa. It is probably impossible to tell what this individual was, especially from just a sighting, but it seems more likely that it overwintered in some form than that it migrated.
The ten day forecasts that I have seen do not predict butterfly weather--the highest temperatures look to be only in the high fifties. But once we hit the mid sixties or seventies we should start seeing butterflies again, especially if the low temperatures are above freezing.
The first butterflies seen are usually those that over winter as adults. In central Iowa, that usually just means eastern commas and mourning cloaks. Gray commas and the tortoiseshells--Milbert's and Compton--are possible but are usually rare in this part of the state, so are unlikely to be seen.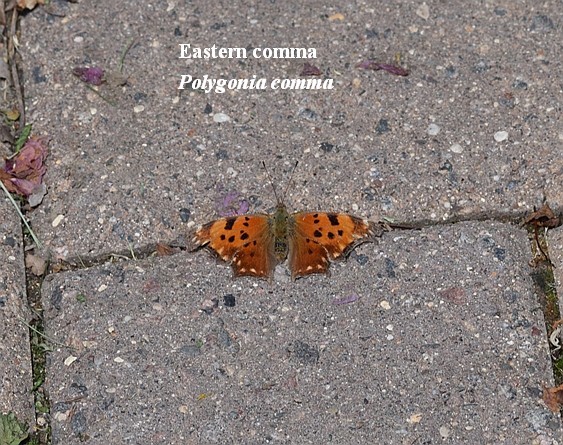 Later in the month we will see the butterflies that spend the winter in some form other than the adults. The first of this group may include red admirals, cabbage whites, spring azures, and black swallowtails.
The early butterflies don't usually have access to flowers, so instead look for them on tree trunks and branches where some physical damage has occurred and the sap is leaking. A wet tree trunk is usually a good spot to look.
While it is always a thrill to see the first butterflies in March, the numbers and diversity are always low. But hang in there, it will get better soon.
Get outside and enjoy!

Harlan Ratcliff

Reference: Dennis W. Schlicht, John C. Downey, Jeffery C. Nekola.

The Butterflies of Iowa.

2007. The University of Iowa Press, Iowa City.